KUT FM Public Radio Fall Fundraiser Recap & Photo
Posted almost 10 years ago by Dorothy Darby
Lynne Hudson, Monica Alleman, Sheila Larkin and Sandra Ransom were up bright and early answering phones for the KUT FM Public Radio Fall Fundraiser on Monday, Oct 26, 2009.
Mary Gordon Spence, Austin humorist and writer was at the station co-hosting "Morning Edition." She talked about APNs and our important role in community health care. She mentioned that we celebrate Austin Advanced Practice Week along with Texas Nurse Practitioner Week in November. Governor Perry has already signed the State proclamation for Texas NP Week, Nov 9-15, 2009.
During the fundraiser, listeners were encouraged to call in their pledges in honor of their pet dogs and also received KUT dog leashes. APN volunteers had a fun job writing down the names of all kinds of Austin pets to be announced on air.
Thanks again if you called in your pledge!
Austin APNs will be back for the Spring fundraiser so consider joining us at the phones then. Hope to see you and your canine friends on the bike and hike trails in the these beautiful fall days!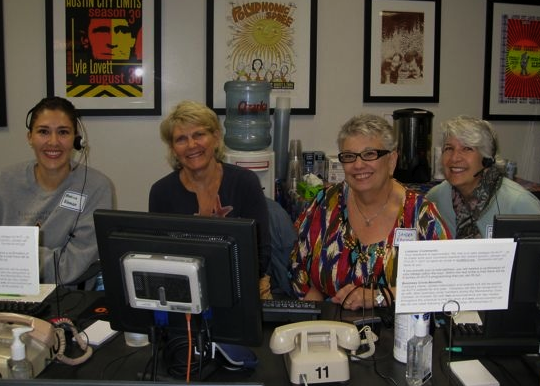 ---